I was lucky to attend an art showcase of a great local artist! I took a number of pictures and decieded to make a slideshow and show everyone what they missed!
IF you like what they see take a look at his flickr.
http://www.flickr.com/photos/operation_art/
If you would like to contact him you can..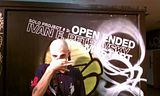 Click image to view bigger!